The Gospel Tree
The first church at Nantgwyn was built in 1792 but non-conformist worship in this area had been taking place in private houses since the mid seventeenth century. For more than 90 years Garthfawr was the centre of worship, with a baptismal pool at Garthfawr Glen. Meetings were also held at Fullbrook, close to the Mid Wales Railway, where it is reputed that itinerant preachers, such as Vavasor Powell, would preach the gospel under a large tree. The tree, long gone, became known as the 'Gospel Tree.' In time the centre of worship moved to Nantgwyn Farmhouse and in 1792 a church was built here, next to the farmhouse. In 1796 the Nantgwyn members combined with members from Garthfawr and Newchurch to form the new congregation. Services were conducted in Welsh until 1860. The first minister was Mr James Harris who was living at Garthfach. He was well regarded but not able to attract many new members and in 1801 he, together with several members of his congregation, left for the promise of a new life in America.
The church served the community until 1888. It became dilapidated and a new, larger chapel was built close by, on the opposite side of the road, designed by W Evans of Rhayader. The old church was demolished but the old graveyard remains. A manse was built in Pant y dwr in 1888 and in 1884 ground was donated to provide a further burial ground next to the new church.
Thomas Thomas and David Davies
Two long-serving ministers from this era are commemorated in the church. The Rev.Thomas Thomas from Carmarthenshire was the minister of Nantgwyn and Newchapel for 48 years. He lived at Penybanc and during his ministry he baptised around 1500 people. He died in 1852, aged 81. He was followed by the Rev. David Davies, a preacher with the Calvinistic Methodists. He was pastor at Nantgwyn and Beulah for 36 years. As a youth he had had a leg amputated and he always travelled to church on horseback. The church members built Green Cottage, Panty dwr as a house for him and his family in retirement. He died in 1892, aged 76 years.
Conflagration
The church was nearly lost to fire in1898. On a Sunday in October, just before evening service, some oil lamps fell to the floor and started to blaze. It was a serious fire but was eventually brought under control and the main loss was a valuable harmonium. A new pipe organ was installed in 1905. A new school was built in 1908. During the 1960s the chapel was renovated, redecorated, mains electricity was installed and water laid on. The school closed in 1981 and is now a private house. The current pastor is the Rev. Roy Bedford and Sunday worship services are held at 10.30 am and 6.00 pm,see Nantgwyn Baptist Church.
© PB 2017


Sources:
History of the Baptists in Radnorshire, John Jones 1895
South Wales Daily News, 26 October 1898
Marching to Zion, J B Sinclair and RW D Fenn 1990
John Ball, Images of Wales
Welsh Religious Buildings Trust
Photographs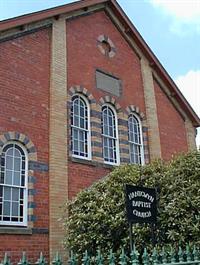 Nantgwyn Chapel photos courtesy John Ball
Nantgwyn Ladies 1960s, Courtesy of CARAD and the Evans Family, Cenarth Mill Collection